downton abbey
romance and drama are alive and well
The global success of Downton Abbey is vivid proof that romance and drama are alive and well and thriving on the small screen. After it's first broadcast, no one expected it would pull more than 6 million diehard fans of English period drama in its home market - let alone a cult-like following stateside.
So what's the problem?
Audiences wanted more information about the characters and where they came from. Since there were several character coming in and out of the show, we wanted to give them exclusive access to their backstories. Second screening was in it's infancy - but we were on the cutting edge of bringing it to life.
expanding the brand
To launch the show our team approached Downton Abbey from the viewpoint of the fans. We gave them a behind-the-scenes looks at the filming of Season 2, and let them in on cast/crew video Q&A's.
Likewise the audience wants to know private, juicy, behind-the-scenes tidbits of whatever you're promoting as well. They particularly want a peek into your private life. Notice I said peek. This means that you reveal select tidbits chosen in advance that will give your fans a look at your skirt – not under it.

At the time the original Downton Abbey series aired the live chat with Hugh Bonneville (Lord Grantham) had 4900 live readers and 2100 comments during the 1-hour chat. The Laura Carmichael (Lady Edith) chat had 4200 live readers and 1700 comments during the 1-hour chat.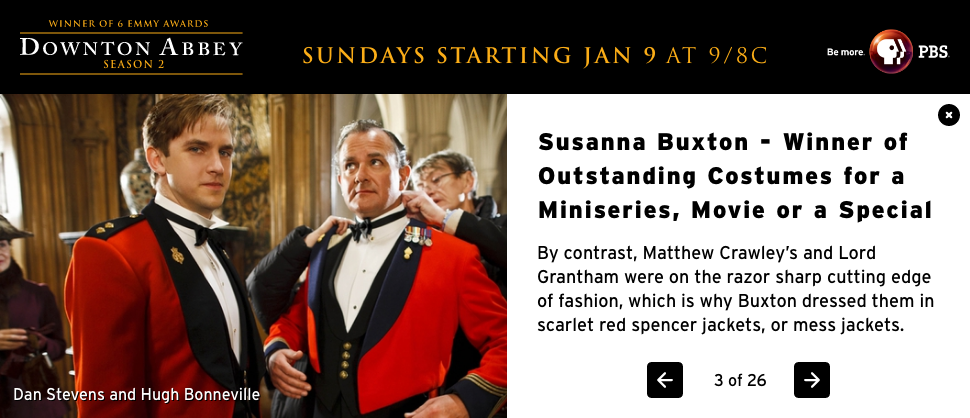 imagery matters
Using all the different avenues of social media, we developed excitement and kept audience's interest high. Think photos, quotes, videos, recipes, and private moments that immerse the audience in the Downton universe. Always including a bit of intrigue and drama to make you want more.
Opulence and grandeur are on display in the first seasons official trailer, showing that period drama is alive and well in modern society. Using the styles, colors and clean aesthetics created a mood-board for setting up the creative for Season 2 and beyond.
Watching a single episode of Downton Abbey you see the incredible attention to detail. Specific details are found in their storylines about historical event, character costumes, vehicles, architecture, furniture, and so much more.