Generative Ai for SMb's
the problem
Create a trouble-free experience for SMBs to learn about, and use our AI products and solutions. What are AI solutions and how can it help my business?
That's what our SMB customers were thinking. It's a complicated solution that is only for enterprise customers, right?No! AWS has partnered and developed solutions that can positively impact organizations to reduce cost, increase productivity, and drive innovation.
There are plenty of business challenges out there for all-size businesses. Small and medium-sized businesses (SMBs) are the David of the Goliath in the business world - trying to compete with the big guys, they need all the help and support possible.
What's holding them back?
Some of the frustrations from the Business Decision Maker (BDM) and Technical Decision Maker (TDM) differed. We really had two masters to serve with this project: The chooser and the user. The BDM was going to make a decision, with some input, based on the needs of the small business. The TDM was going actually to use the product or solution.

Key findings indicated heavily that BDM's were more likely than TDM's to use search terms related to business problems. Search priority was to avoid landing on websites intended for much larger entities. One responded said: "I don't want something geared toward a huge retailer."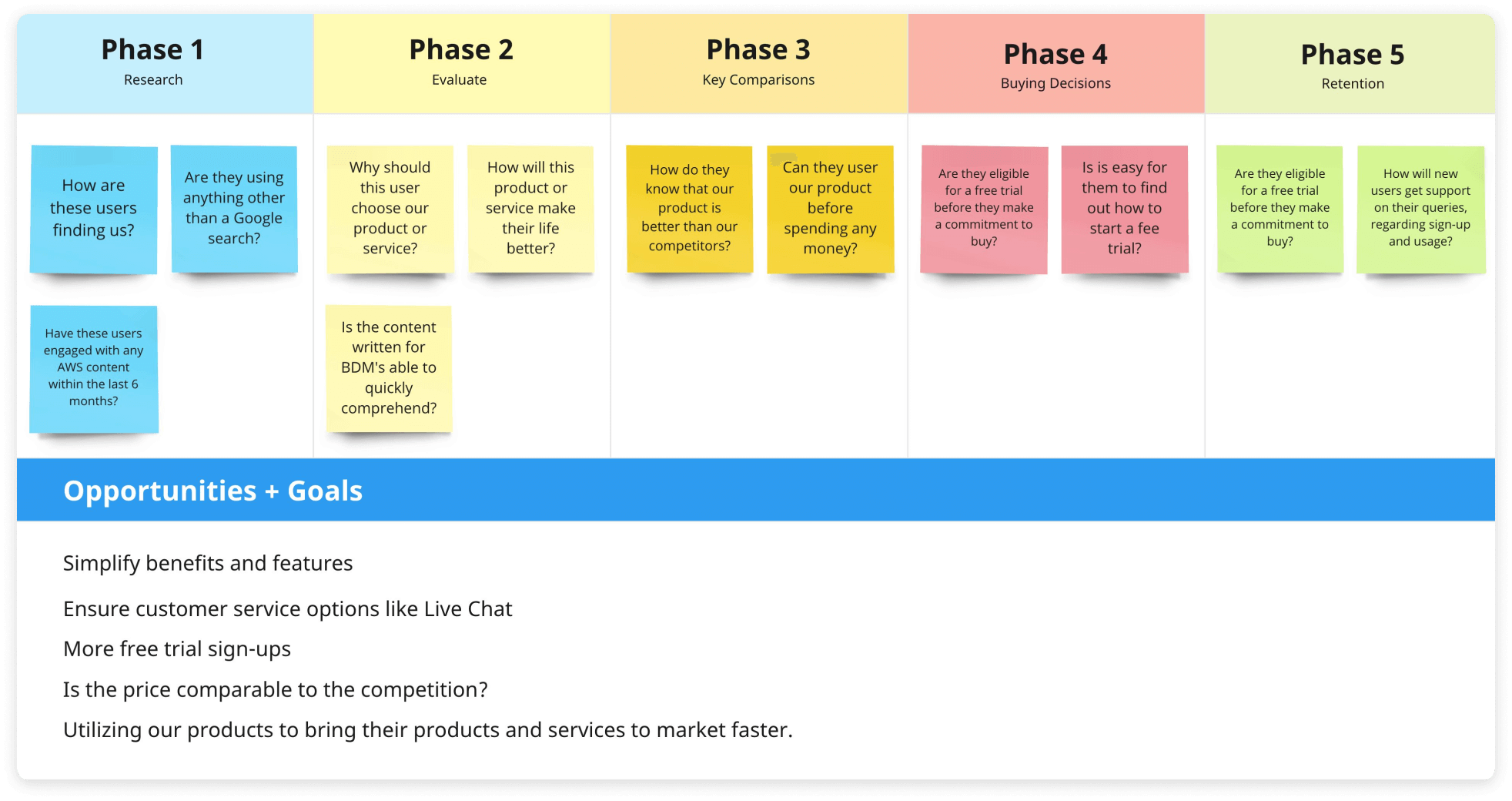 use personas to define the problem
Concentrating on two main types of target users— I created two separate personas to guide me through the design. It clarified that different decision-makers have different needs and expectations.
Reference Personas Throughout the Design Process: I like to use personas as a reference point during ideation, wireframing, and prototyping. When I get to a place in the process where I feel like I need a mental refreshment to prevent burnout, I'll come back asking myself questions like, "How would Persona A approach this feature?" to guide decision-making.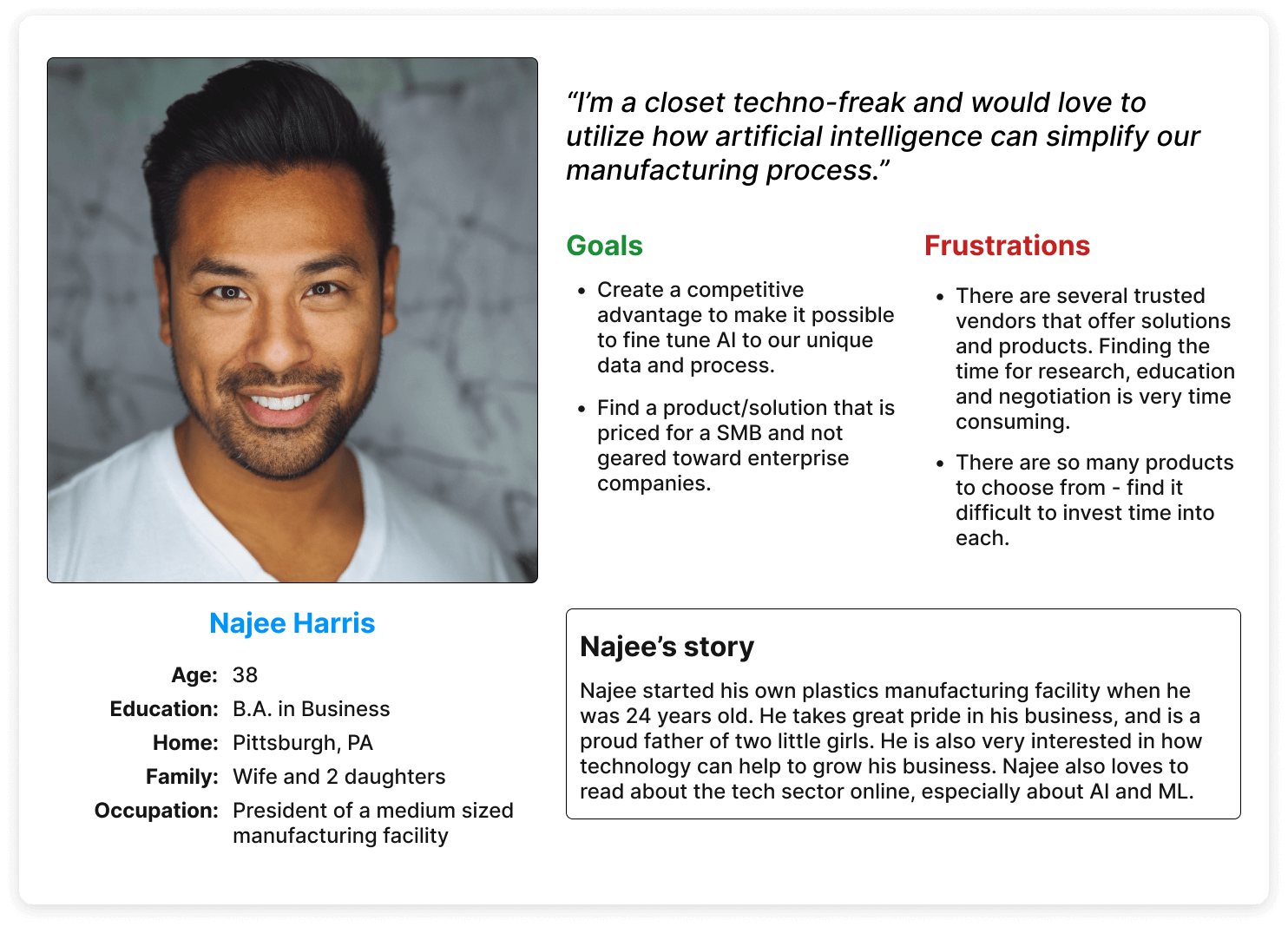 Personas developed from AWS user research
grab that sketchbook, mouse and keyboard
This project was a speedy turnaround. We needed to get this page live to correspond with a live event centering around SMBs and the future of AI-established solutions.
I almost always start with a "mobile first" principle in the ideation phase. It has a vital role in product design. On the one hand, it helps to save product design time and improve designers' productivity. On the other hand, it forces me to pay more attention to the content of a product, which helps create neat and practical designs.
Initial sketch of the user flow

Design and prototype
When presenting the first round of designs, I started the presentation by showing and discussing the pages of our competition. The competition uses very similar visuals, and I really wanted to steer away from that and convince the stakeholders that this should look and feel different, even a bit different than what our regular pages feel like.
As the UX designer, I wanted to keep the balance between brand integrity and providing a refreshing look to the user.
The final result is a clean, easy-to-navigate, and relevant experience to the users who can benefit from this page.
User-Centered Design
Simplified Navigation
Clear Information Hierarchy
Consistent Design Language
Responsive and Fast
At the time of this design, the videos had not been purchased